Questions about gifts
What does it mean when someone requests a right-handed baseball glove?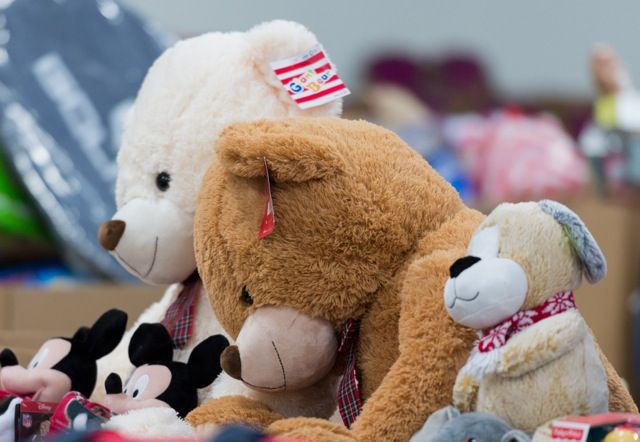 A baseball glove or mitt is described by the handedness of the intended wearer, rather than the hand on which the glove is worn: a glove that fits on the left hand—used by a right-handed thrower—is called a right-handed (RH) or "right-hand throw" (RHT) glove. Conversely, a left-handed glove (LH or LHT) is worn on the right hand, allowing the player to throw the ball with the left hand.
I picked up a card that has an unusual recipient name. What do I do?
To the best of your ability, try to decipher what the name might mean. For example, the name "Maria-male" likely indicates that the child's name is Maria but that they identify as a boy so choose a gift accordingly. Another example might be a senior who is asking for an infant activity mat so think "grandparent" and buy the gift requested.
Information about recipients with special needs...
Many of our recipient organizations identify their clients as having special needs but only some are noted as such on the wish card. For example, an 18-year-old boy might want a learning toy that would be intended for a kindergartner (developmental issues); or a 25-year-old adult requested a large print book (sight issues). In general, the wishes reflect the true need so best to purchase what was requested.
A homeless recipient is requesting a floor lamp or vacuum. Why?
Those recipients noted as homeless on a wish card are usually under the care of an agency that is assisting them in transitioning into some sort of housing. As with anyone moving into a new space, they are in need of household items in order to set up their new room or apartment.

What do I do if the size of requested clothing or shoes does not seem right?
If you don't think the size matches the age, for example, if a wish card for a 13-year-old male asks for a size 4 pair of shoes, please purchase what you think is the appropriate size and include the receipt with the gift.
What do I do with late gifts?
Our partner nonprofit agencies will begin gift pick-up from the Family Giving Tree warehouse on December 15. Although we cannot guarantee that gifts donated after this date will go directly to the child listed on the card, we will ensure all donated gifts go to children on our waiting list. Should you find yourself with late donations, please do drop off those gifts at Family Giving Tree's Holiday Wish Drive warehouse through December 23. Please review the calendar for warehouse hours.
What if I cannot find the requested gift?
We have worked hard to ensure all wishes can be found easily and are both price & age-appropriate. If you find that an exact match of the primary wish, please look at the secondary or alternative wish that is listed. If you are unable to find either, choose an alternative gift within the same genre of the original wish (e.g. toys, athletic wear, electronics). If you still find that you are unable to fulfill the wish, please contact us by phone: 408-946-3111. We appreciate the time you take to fulfill each wish.
Why do I need to include a toothbrush with my gift?
Most recipients of these gifts do not have access to preventative healthcare. A toothbrush is a small but powerful help for these individuals. If you can't purchase one, we will have them at the warehouse to include with the gift.
Why do I need to complete the Warehouse Drop-off Form?
Completing the form helps us count and track all the gifts we receive. It makes our job in the warehouse much easier and ensures that your group receives the proper credit for your generous donation.
Questions About Wish Cards
What if I lose a wish card?
If you lose a wish card, please attach a piece of paper to your gift, listing as much information as you can recall from the original wish card and we will do our best to match it at the warehouse.
What do I do with leftover wish cards?
Because we accept late gifts in order to fulfill wishes on our waiting list, we encourage Drive Leaders to display the wish cards for as long as possible. However, when our Holiday Wish Drive has finished, leftover cards may be returned to the Family Giving Tree Holiday Wish Drive warehouse or our office in Milpitas. Please return leftover cards in an envelope labeled with your groups name.
I ran out of cards. How do I get more?
Congratulations (and thank you!) on exceeding your expectations! Please contact our office and we will gladly mail out more cards ASAP. Every gift is another wish granted, more joy delivered to someone who needs it most during the holidays. You may also email us at driveleaders@FamilyGivingTree.org or call us at 408.946.3111 x226 to request additional wish cards.
Questions About the Warehouse
Where is the Warehouse?
Our 2019 Holiday Wish Drive Warehouse is located at 110 W. Tasman Drive, San Jose. Check out the warehouse information on our website.
When are gifts due at the Warehouse?
Gifts should be delivered to Family Giving Tree's Holiday Wish Drive warehouse by Tuesday, December 11th. Earlier deliveries on December 7th, 8th and 10th are welcome. Please count your gifts and complete the drop-off form. Bring this form with you to the warehouse. For warehouse and drop-off hours see the calendar.
In addition, this year we have three remote drop-off points:
SAN FRANCISCO
December 9
TBD
CASTRO VALLEY
December 10, 11:00 am - 6:00 pm
Cross Streets @ 3 Crosses Church, 20600 John Drive
PENINSULA
December 11, 11:00 am - 6:00 pm
Location Stanford Research Park
Does Family Giving Tree pick up gifts from Drive Leaders?
No. Unfortunately, Family Giving Tree does not have the resources to pick-up from the hundreds of Drive Leaders who support us.