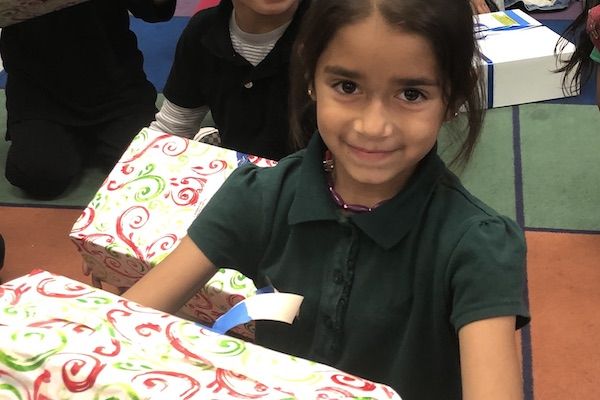 Leading a Drive is rewarding and fun.
Thank you sfor your interest in the Holiday Wish Drive. To give you a bit more information, here is the general overview of our Holiday Wish Drive program.
We have a visual guide that illustrates the
Journey of a Wish
- this gives you a high-level view of how wishes are fulfilled from beginning to end.
To provide a brief summary of how we operate: we vet and approve Bay Area non-profit agencies who support children, adults, and seniors in need to collect Holiday Wishes from those they serve. We print these wishes on individual cards which are distributed to companies and groups (i.e. Drive Leaders) so their members can purchase the requested wishes. These purchased gifts are returned to us and then we distribute the gifts back to the agencies who then distribute them to the individuals who made the wish.
The timeline for the Holiday Wish Drive is as follows:
Now: Drive Leader Registration Open
October 16: Priority Volunteer Registration for Drive Leaders Opens (this is optional if you'd like to volunteer in the warehouse)
November 1: Public volunteer Registration Opens (this is when all of the warehouse volunteer opportunities will fill up quickly)
November 4: Virtual Giving Trees (VGTs) Go Live (you can start running your online drive at this point if you sign up for one)
November 5-7: Holiday Wish Drive Materials Pickups
November 8: Holiday Wish Drive Material Mailings Begin (if you aren't able to pick up your materials)
December 9 - 11th: Donation Drop-Offs (All gifts due to warehouse by December 11)
To make it easier for our Drive Leaders, we will have materials pickup and donation drop-off options in the South Bay (our main warehouse), North Bay, East Bay, and Peninsula.

When you register for a Drive, you will be able to specify how many wish cards you would like to receive and make a request for marketing collateral such as posters and tent cards to display (limited quantities will be available but we will have resources online for you as well).
If you have further questions or require more information check out the other menu items in the Holiday Wish section - they are updated frequently in November and December. If you still need assistance, please don't hesitate to reach out to
driveleaders@fgt.org
. We are more than happy to help support you throughout the Drive to ensure a positive experience.
Enjoy a
brief video tour
of our warehouse and see the smiles on kids faces because of the hundreds of Drive Leaders who work on our behalf.