As an organization, we are thrilled to announce that Family Giving Tree's founder and CEO Jennifer Cullenbine is the City of Milpitas' "Citizen of the Year" for 2021!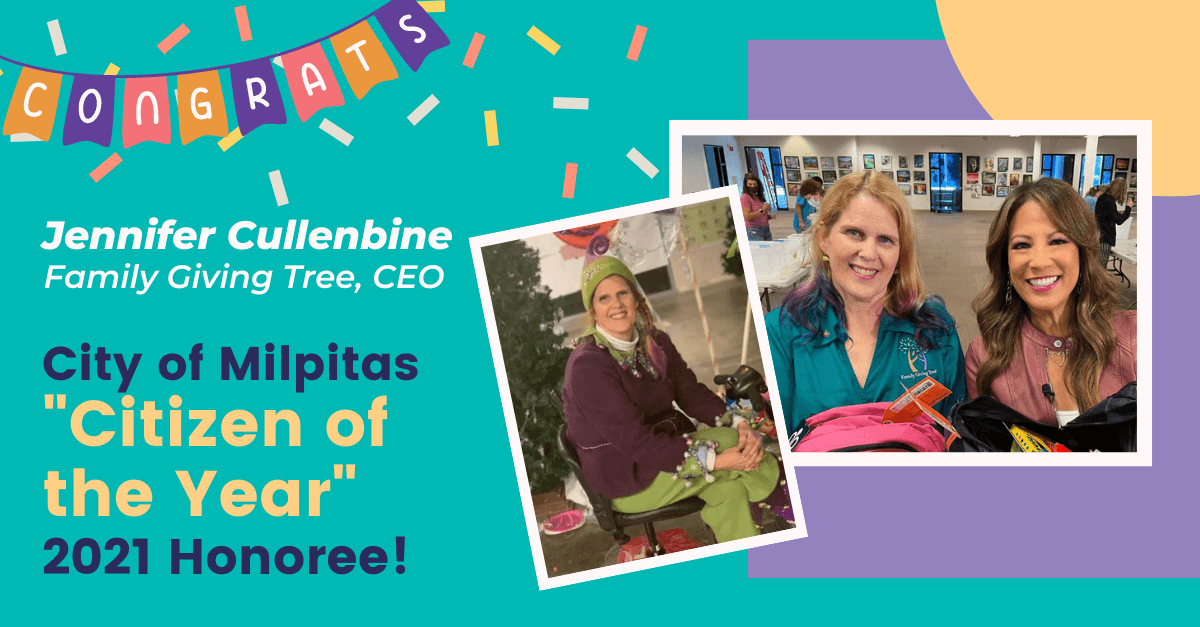 This honor is bestowed annually on residents who regularly give back to the community through volunteerism and philanthropy.
Jenn's initial dream, back in 1990, was to grant holiday wishes for children who lived in economically challenged neighborhoods nearby her childhood home. This objective evolved into something more — becoming a mission to also nurture a love of philanthropy in local children and families. From the early days of running Family Giving Tree's holiday drives, Jenn maintained an adamant stance that kids should be able to participate in all facets of volunteering from a young age.
In a recent conversation with staff, Jennifer said that she didn't quite believe in her abilities as a student and internalized that she didn't entirely measure up. Driven by this experience, she wants to empower young girls to believe in themselves and their ideas through her story. She seeks to encourage young people in the same vein as her former guidance counselor, who urged Jenn to apply to college despite any self-limiting academic she held at the time. Or her dear friend Todd gave her the extra vote of confidence and his time to help take her first vision of the Family Giving Tree —born in a brainstorm in a college classroom — and make it a reality. This grassroots initiative which resulted in 2010 wishes granted in the first year, has now bloomed into a 32-year-old non-profit that has surpassed serving 2 million recipients in the Bay Area.
We all need someone who believes in us. Someone who helps us nurture our confidence and belief in the possibilities and the knowledge we have people rooting for us. This paradigm has been the foundation of everything at Family Giving Tree! We're grateful to be a part of this hope-inspiring, spirit-uplifting mission that Jenn has helmed all these years.
Congrats, Jennifer, for this recognition of your life's work! With love from your FGT Team! 💛