The Family Giving Tree – Granting Wishes for Joy and Learning
The Bay Area ranks as one of the world's most affluent areas, yet more than 800,000 Bay Area residents are living at or below the poverty line and one out of every four children here lives in poverty. These statistics are even more startling because it's greater than the national average.
The price we all pay
The price we pay for poverty is astounding—roughly $500 billion per year nationally in economic losses, healthcare and crime. The emotional and psychological impact of living in need, especially on children, is equally staggering. Poverty chips away at a child's happiness and confidence and ultimately diminish his ability to thrive and succeed. All too often, poverty derails a child's education and her aptitude to imagine a bright and hopeful future.
Two million recipients
For 31 years the Family Giving Tree has been steadfastly committed to being of service to those most in need. So perhaps it's not surprising that what started as a San Jose State MBA project to help in-need children has grown steadily into an established, widely respected, nonprofit organization.
In 2021, despite the pandemic, and with the help of more than 516 Bay Area nonprofit agencies and schools, 2,494 volunteers, and 986 individuals, groups, and businesses that helped us lead drives—we fulfilled nearly 53,000 holiday wishes and provided more than 25,000 supply-filled backpacks to those most in need.
Family Giving Tree has served over two million children and individuals throughout the greater Bay Area as we actively endeavor to inspire the values of kindness, philanthropy, and volunteerism in our community.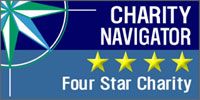 Honored to be recognized by Charity Navigator with a 4-star rating for the sixth consecutive year, the Family Giving Tree is the largest holiday gift and backpack donation program in California.