Representation matters in the stories we share! Celebrate Women's Month with us as we share the accomplishments of four remarkable Black women in STEM.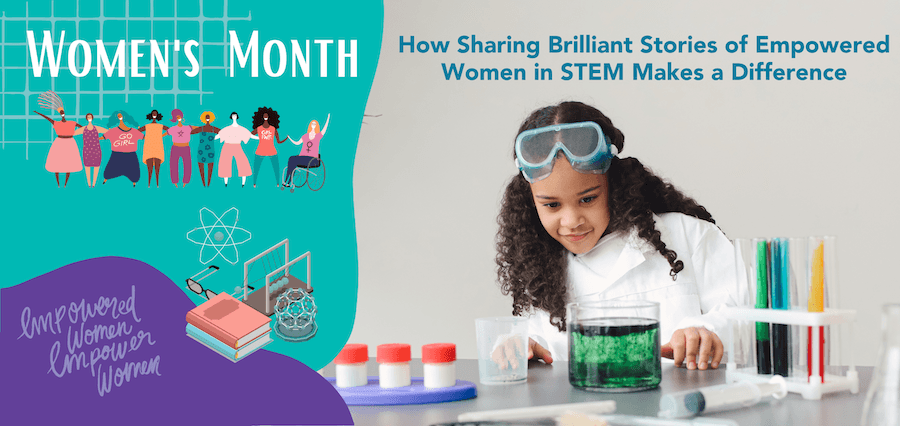 This year the theme for International Women's Day is "DigitALL: Innovation and technology for gender equality."

During Black History Month in February, we shared the stories of four black women who made big contributions in the field of STEM with our community via email. Stories of curiosity, persistence, passion for helping others, and the power of mentorship. The accomplishments of Marion Croak, Dr. Rebecca Lee Crumpler, Dr. Gladys Mae West, and Valerie Thomas are remarkable due to the challenges they faced as Black women trying to make a mark in the field of STEM, even when the odds were stacked against them.

Today, women only comprise 28% of the STEM workforce, with women of color only making up 11%. With such a long way to go toward equity, it is important for us to amplify these stories. 50 years ago when students were asked to "draw a scientist," only 1% drew a woman. In recent years, the same experiment has shown an improvement, with 30% of students drawing a woman scientist. Representation matters, and we all can do a part in amplifying stories that encourage the next generation of women to lean into their curiosity about STEM, with confidence.

We encourage you to scroll, read, and share these, and other stories of women in STEM with the young people in your life!
Stay tuned for an interview on Wednesday with Harini Senthilvasan from our local partner organization Marshmallow Minds for International Women's Day! We'll learn about their mission and explore ways to encourage more girls to get curious and eager to pursue STEM education.

Marion Croak
Inventor and Tech Pioneer
Born on May 14, 1955, in New York City, Marian Croak invented VoIP (Voice over Internet Protocol) Technology, which allows users to make calls over the internet instead of a phone line. Today, VoIP is vital for remote work and conferencing.
A graduate of both Princeton University and the University of Southern California, Croak spent over 30 years at AT&T before stepping into her current role as a VP of Engineering at Google.
Holding more than 200 patents, Croak was inducted into the Women in Technology International Hall of Fame in 2013. Just last year, she was inducted into the National Inventors Hall of Fame for her patent on the VoIP Technology. She is one of the first two Black women to receive that honor, alongside Patricia Bath.
Dr. Rebecca Lee Crumpler
American Physician and Medical Writer
In the late 1860s, when few women worked outside the home, Dr. Rebecca Lee Crumpler was applying her medical knowledge to save lives.
Raised in Pennsylvania by a kind aunt who cared for the sick in her community, Rebecca followed suit — wishing to relieve the suffering of others. She served as a nurse for eight years, gaining the esteem of her colleagues in Charlestown, Massachusetts.
With glowing letters of commendation from the doctors she worked with, Rebecca was accepted into New England Female Medical College, earning her "Doctress of Medicine" degree in 1864. In doing so, she became the first African American woman to earn an M.D. degree from the institution, and the first Black female physician in the United States.
She also went on to be one of the first black physicians to publish a medical textbook — "A Book of Medical Discourses in Two Parts," where she shared her research on topics concerning women's and infants' health. Unfortunately, no photos of Dr. Crumpler survived, but thankfully her medical studies did.
Rebecca's life story shows the power of pouring your heart into your work. We wish for all to see the potential in our fellow community members. That's why we support education equity and work to lift each other up in our unique talents!
Dr. Gladys Mae West
American Mathematician
Born in rural Sutherland, Virginia, Dr. Gladys Mae West spent much of her childhood working on her family's small farm. But, at a young age, West realized she did not want to spend her life working in the fields or factories as her family did. Instead, she decided that education would be her path forward.
After graduating high school as valedictorian in 1948, West received a full scholarship to Virginia State College (now Virginia State University), a historically black public university. Here she studied mathematics and became a member of the Alpha Kappa Alpha sorority.
West received a Bachelor of Science in mathematics in 1952, and went on to teach math and science for two years. She then returned to VSU to obtain her Master of Mathematics degree, graduating in 1955.
Between the mid-1970s and the 1980s, West worked on programming an IBM 7030 Stretch computer to deliver precise calculations to model the shape of the Earth. In her autobiography, West spoke of some of the complex problems she solved, which had proven too difficult for other team members.
This model became the basis for the Global Positioning System (GPS).
After retiring, she completed a Ph.D. in Public Administration from Virginia Tech.
Gladys' story shows the power that education can have in changing the trajectory of a person's life.
Valerie Thomas
NASA Scientist and Inventor
Valerie Thomas' first venture into hands-on STEAM experimentation came after she borrowed a book incongruously titled "The Boy's First Book on Electronics" from the library. With little encouragement at school or home, she was left to her own devices to explore her fascination with technology.
Luckily, this changed when Valerie enrolled at Morgan State University, a historically black university, as one of only two women in her class to major in physics.
Thomas excelled in her studies, landed a position as a mathematical data analyst for NASA, and went on to manage the development of image-processing systems for the "Landsat" program. These multi-spectral images were the first to be sent via satellite in order to study the Earth's resources from outer space.
In 1976 Valerie's insatiable curiosity for STEAM knowledge let her to discover through experimentation a method to transmit images three-dimensionally using concave mirrors. In 1980, she received a patent for her work on this 3D imaging project called the "Illusion Transmitter" - a technology that is still being used today!
After retiring from NASA in 1995, Valerie has continued the important work of mentoring young students through Science Mathematics Aerospace Research and Technology (S.M.A.R.T.), Inc., and other organizations.