2 Million is here! A special thank you to our sponsor...
Today is a big day! Family Giving Tree has officially served its 2 millionth recipient!
For 31 years, Family Giving Tree has matched exact holiday wishes for children, seniors, and unhoused people in the Greater San Francisco Bay Area. Additionally, our annual Back-to-School program ensures students have essential school supplies to start the new year.
It took 22 years to get to our first millionth recipient in 2012, and less than 10 years later we are at our 2 millionth. This is made possible by our amazing community: a network of drive leaders, dedicated volunteers, financial and in-kind supporters, and a small but mighty staff of 18!
On Friday, December 17, Family Giving Tree hosted 2 Million Reasons, a live-stream event to celebrate our journey to the 2 millionth recipient. NBC Bay Area reporter Chris Chmura served as the emcee. At the event, we gave a tour of our warehouse, heard from Karen, Alexandra, and Ung from our agency partner Family House in San Francisco, and concluded the event with a balloon drop. You can check out the recorded event here.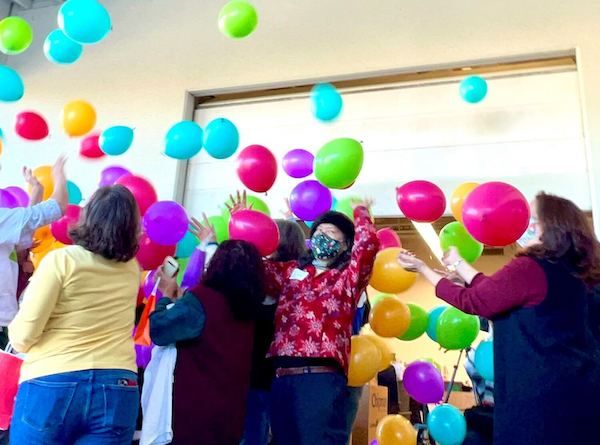 We want to give a special thanks to 2 Million Reasons sponsor Revel Systems, which is also a sponsor for this year's Holiday Wish Drive. Revel Systems recently launched their new philanthropic initiatives, which include partnering with agencies like Family Giving Tree.
"Revel has proudly supported the Family Giving Tree for the past five years and is thankful for their commitment to families & children, especially those experiencing hardships," Said Josh Boyer, Joshua Boyer, Chief Financial Officer at Revel Systems.


"At Revel, we believe one step we can collectively take towards meaningful change is to support organizations in the communities where our employees work. To help fuel that mission, we increased our support of the Family Giving Tree in 2021 in recognition of their successful efforts to support families & children in Northern California."
From all of us at Family Giving Tree, thank you for being a part of our work, bringing joy to the community, and joining us to get to our 2 millionth recipient.