It's official! Our 2021-22 Annual Report is live on the FGT website.

We wanted to try something a little different this year. Once you open the report, you'll notice that this version is presented as a flipbook. We thought it might put a smile on your face. And, as you know, we do love bringing smiles! You can locate it here, in our "about" section.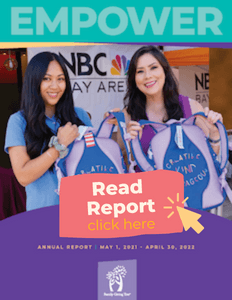 We want to highlight that, with your help, we reached the milestone of 2 million recipients served in December of 2021! We can't express how much this means to us… and the community. We are both elated and reinvigorated.

That invigoration is going to keep us pushing. Join us for the upcoming Tree Talk on October 20th and learn first-hand, how our partner agencies support both us and their clients. Click here to register!