Ah, the joyous world of childhood and the ever-evolving landscape of toys that sparkled in the eyes of kids across the years.
From the whimsical chirps of Tamagotchis demanding virtual care, to the head-spinning phenomenon of Tickle Me Elmo, each era brought forth its own treasure trove of playthings. Join us on a nostalgic journey as we unwrap the memories of the most coveted toys, from the pixelated adventures of Game Boy to the adorable chaos of LOL Surprise! Dolls. These toys aren't just objects; they're time capsules, capturing the essence of youthful delight from the '90s to the whimsical wonders of today. So, let's dive into the toy chest of time and rediscover the magic that made growing up so much fun!
1990s
The iconic toys of the '90s left an indelible mark on pop culture, shaping the collective childhood memories of a generation.
From the digital responsibility fostered by Tamagotchis to the Beanie Baby collecting frenzy driven by rarity, each toy held a unique cultural significance. Furbies stood at the forefront of interactive and robotic play, reflecting the era's fascination with emerging technology, while the Game Boy revolutionized portable gaming with titles like Pokémon.
Tickle Me Elmo became a holiday season sensation, showcasing the power of marketing and scarcity. Power Rangers action figures allowed kids to bring their favorite TV characters to life, while Pokémon cards became a cultural currency with a vibrant collector's market.
Super Soakers transformed water fights, and Polly Pocket miniature dolls captivated young imaginations. Barbie, a classic for decades, evolved in the '90s with diverse editions, contributing to the era's ever-changing societal norms. Together, these toys provided not just entertainment but a cultural mosaic, defining the joyful essence of growing up in the '90s.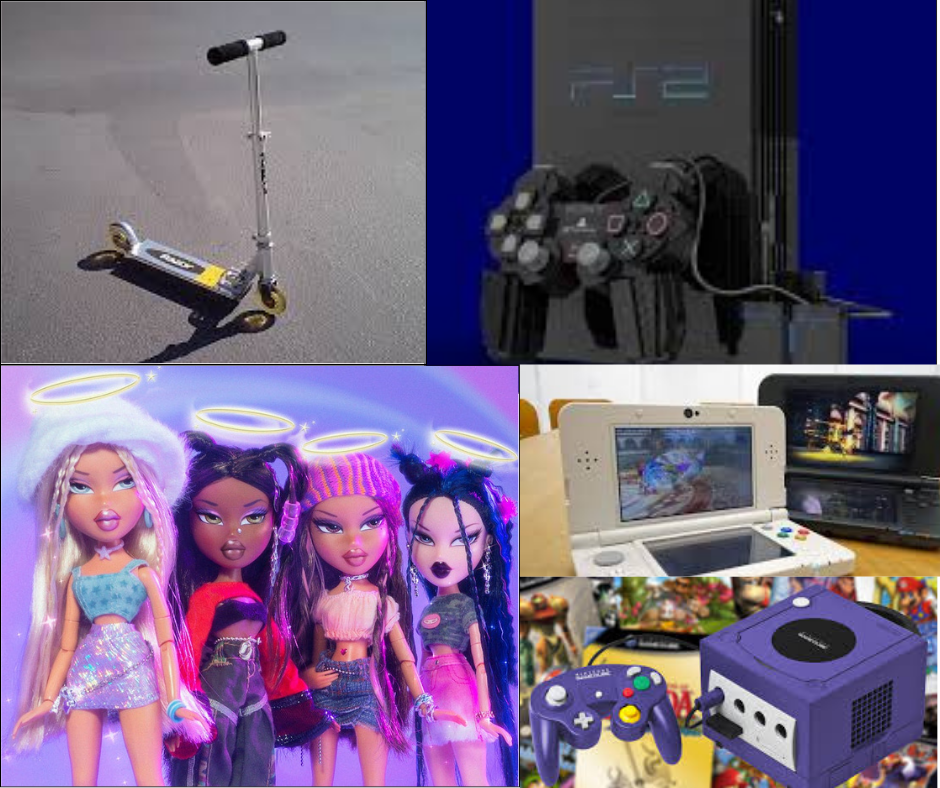 2000s
In the 2000s, the toy scene saw a mix of physical and digital play.
Bratz dolls brought a stylish and edgy alternative to traditional fashion dolls while the PlayStation 2 became a gaming console phenomenon, offering a vast game selection. The Nintendo GameCube also provided diverse gaming experiences
The Yu-Gi-Oh! Trading Card Game brought strategic dueling to living rooms, and Razor scooters became a popular ride for kids and teens. ZhuZhu Pets introduced interactive robotic hamsters.
Nintendo DS revolutionized handheld gaming with dual screens and Webkinz combined plush toys with a virtual world.
Beyblades offered spinning top battles at a time when LEGO sets continued to inspire creativity. These toys left a lasting impact, shaping the childhoods of many.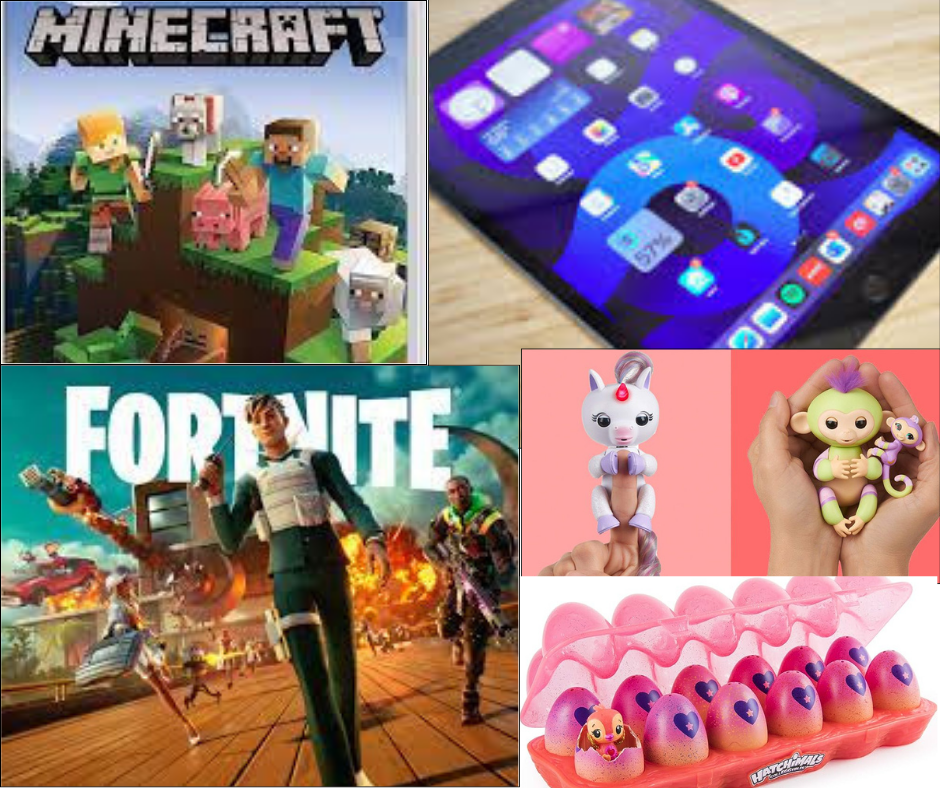 2010s
In the 2010s, playtime saw a shift towards interactive experiences.
Touchscreens, notably on devices like the iPad and tablets, became creative hubs for children. The blending of physical toys with virtual adventures also became evident in innovations like Skylanders, where toys seamlessly entered the digital realm.
Minecraft extended its influence into toys, offering a bridge between digital and physical play. LEGO Friends introduced a narrative twist to the classic building experience, combining bricks with vibrant characters.
Frozen-themed toys capitalized on the movie's popularity, captivating young audiences with beloved characters. Hatchimals brought an element of surprise with interactive hatching, while Fingerlings and LOL Surprise! dolls added layers of interactivity and collectibility.
Nerf guns, in various forms, continued to provide foam-based fun for active play. These toys collectively defined the 2010s, presenting a blend of physical and digital elements that shaped a new era of play.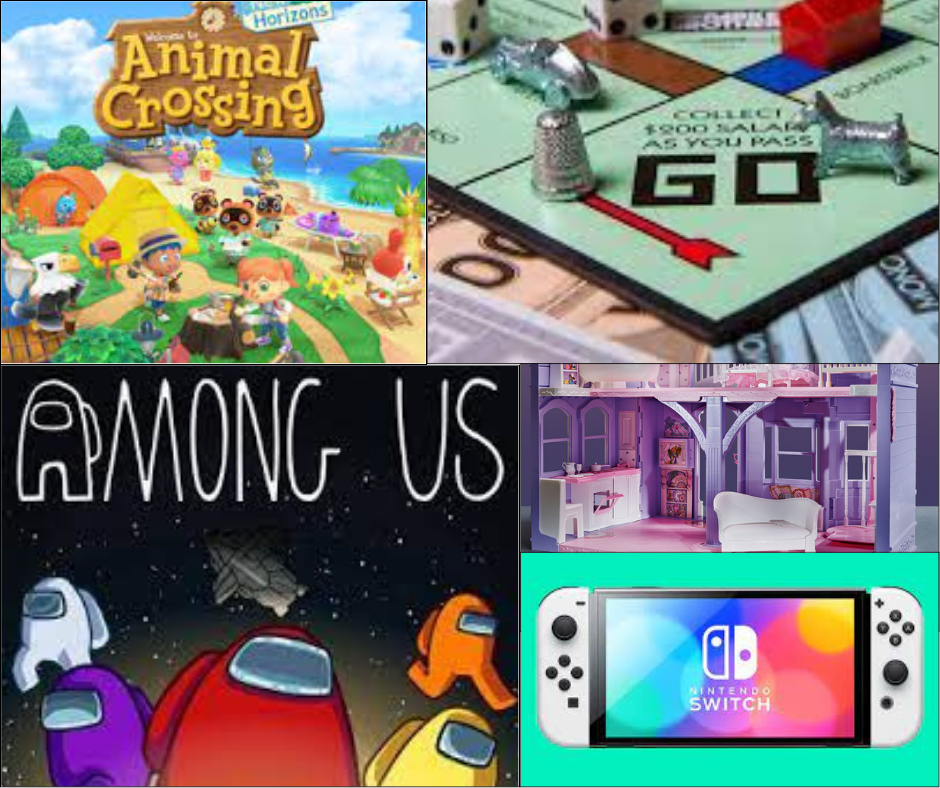 2020s (so far...)
The 2020s have emerged as a decade that seamlessly intertwines nostalgia with innovation, ushering in a unique blend of cherished characters and fresh inspirations that commanded the spotlight. So far, this era has been marked by a hallmark of versatility in play, extending from the boundless realms of imagination to the dynamic landscape of gaming experiences.
Noteworthy mentions in this eclectic mix included the rise of the videogame Among Us, its popularity reflected in a surge of dedicated merchandise. Another videogame, Animal Crossing: New Horizons, has brought virtual joy into the physical world with a range of themed items, while LEGO Super Mario sets and Baby Yoda toys capture the hearts of enthusiasts. The Nintendo Switch has also become a ubiquitous companion for gaming aficionados, while classic toys like the Barbie Dreamhouse and LEGO Harry Potter sets have seen a resurgence.
Catering to younger audiences, Paw Patrol toys and the fascination with remote-controlled drones added excitement to playtime. Notably, board games experienced a resurgence, particularly during the COVID-19 pandemic, offering a source of entertainment and connection in times of isolation.
As we revel in the joy of memories made through toys, let's extend that joy to those who may need it most. This holiday season, join Family Giving Tree and be a part of something truly magical by participating in the 2023 Holiday Wish Drive!
In fact, you can sign up to be a Drive Leader in just a few days! Stay tuned for the registration link here or on our socials.