Seedlings
Enjoy our blog - appropriately called "Seedlings!"
If you'd like to receive a copy of Seedlings via email, please use the "Email Sign-up" button at the bottom of the page and select "newsletter" as your information option. If you have a story you'd like to submit for consideration for use in the blog, please Submit A Story. We honestly love them!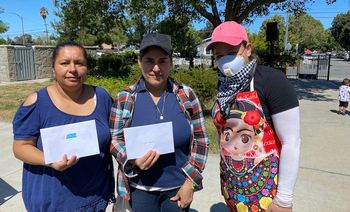 Challenging. Chaotic. Heartbreaking. There are many words to describe the discomfort we experienced in 2020. It was a difficult year, especially for the families we serve here at Family Giving Tree. Despite the chaos, we accelerated through the hardships and the unknown to continue our mission of bringing hope and joy to those around us...
January 25, 2020
2020 Holiday Wish Drive Sponsor, AT&T Pioneers, discusses values, the importance of giving, and their favorite part about our Holiday Wish Drive.
January 15, 2021
"Family Giving Tree aligns with our desire to support the basic human needs of the community."
December 18, 2020
Dobly always rises to the challenge when helping their community in San Francisco. And this year is no different. Read more about this corporate partner and why the holidays giving means so much.
October 15, 2020
Two 16-years olds, cellist Angeline and pianist Ryan took the time to tell us a little more about themselves in advance of their Notes For Nourishment concert this Sunday, October 18 at 1:00pm (PT)
November 16, 2020
This year, with each gift we give, we hope to include an Essential Health Kit including a toothbrush, toothpaste, floss, an age-appropriate mask, and hand sanitizer. Learn why it's an important part of supporting the community.